A step-by-step guide on how to install the DTF print modes for Texjet series printers when using the TexJetRip 7.0 software.
Installation of DTF print modes
STEP 1
Save the new DTF print modes in a file. Open the TexJetRip 7.0 software.
Note: It is recommended to run the TexJetRip program as Administrator, otherwise an error might occur when installing the print modes.
STEP 2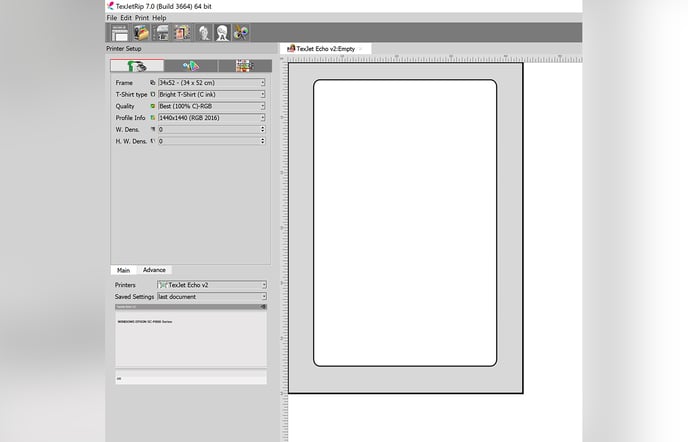 At the software's left bottom interface go to the box named after your printer (i.e TexJet Echo V2). Click on the icon "printer options" in its top right corner.
STEP 3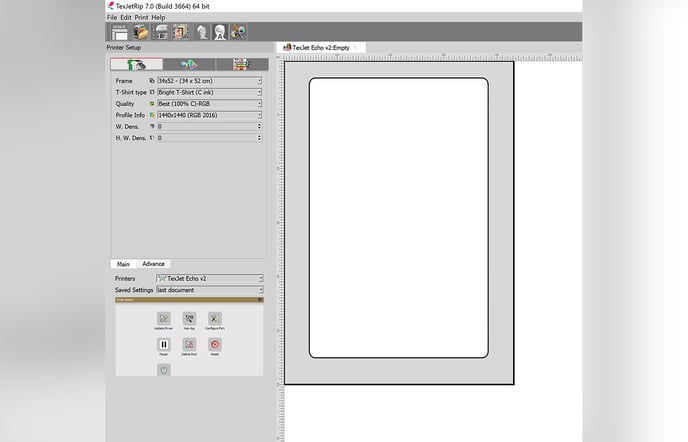 The "printer options" menu will appear. Select the first icon named "Update Driver".
STEP 4
At the new window that opens, select the second option "Local device" and proceed with Next.
STEP 5
In the Selected Path section, browse to the location where you have saved the new print modes.
STEP 6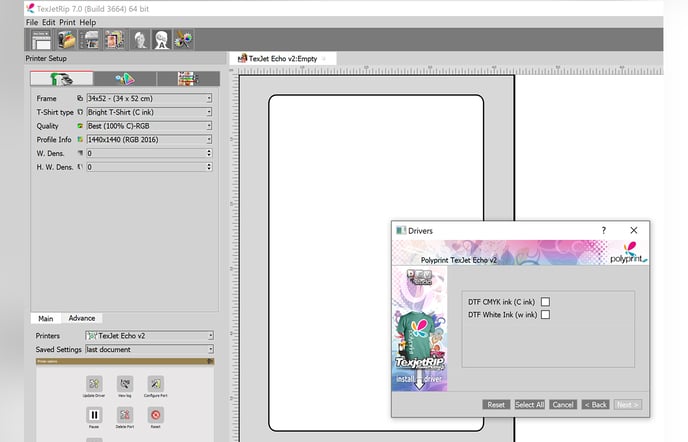 Select both DTF CMYK ink (C ink) and DTF White Ink (w ink) and click Next.
Printing with DTF print modes
Please, take notes on the following when printing with DTF print modes:
Mirror

After importing the image on the working area, ensure to mirror the image.
DTF CMYK ink (C ink)

Always use with the Best (100% C)-RGB Quality choice.
DTF White Ink (w ink)

Set the white density (W. Dens) at 25%.
Note: The density will change back to 100% when changing print mode, so you must set it back to the value of 25% or similar depending on the design.
Caution:
The above print modes are compatible only with the TexJetRip 7.0 version. TexJet printer models that are supported, are the following: Texjet Plus Advanced, Texjet shortee, Texjet echo, Texjet shortee2, Texjet echo2. Regarding other TexJet series models, please contact our support team to help you out: https://polyprintdtg.com/support/
The DTF Xpress film and powder is only compatible with the Polyprint inks powered by DuPont.