Comparing & contrasting the newest printing method - DTG - with other more traditional garment decoration techniques such as Screen Printing, Dye Sublimation, Vinyl Cutting and Embroidery.
The evolution in the apparel-decorating industry has brought about significant changes in each printing method separately. This has brought the strong points of DTG printing onto surface, making it a serious player in the field. More and more businesses are now turning into DTG for multiple reasons and opportunities arisen. Read on to figure out how DTG has gained its firm place in the market amongst other textile decorating techniques.
Digital & Screen printing

What is Screen printing and what is it mostly used for?
Screen printing is the classic method of pushing ink through a woven screen onto fabric. The ink doesn't soak into the fabric, but lays on top of the product with the following simple process: a special screen has to be made for each color of the design. Once that's done, the colors are applied layer by layer onto the garment.
Having said that, screen printing requires a certain setup time and cost but it produces high-quality and durable results. The long setup time is why screen printing is primarily used by businesses with higher production volumes; the method is cost effective when businesses take on orders in bulk. On top of that, screen printing is mostly used for solid graphics and few colors since each color is applied separately.
Why DTG over Screen printing?
Detail in design: The cumbersome setup process does not allow screen printers to support complicated artwork or colorful designs. Instead, DTG does, giving photorealistic outputs that are enhanced with the use of a Rip software.
Personalization & (mass) customization: DTG gives the opportunity to print-on-demand, since screen printers cannot afford small orders. This allows businesses to adjust their production tailored to their customers' needs.
Initial Investment: In general terms, starting up a DTG venture is more affordable than gaining silk screen printing. Most DTG printers do not cost more than 20K while the screen printing equipment with multiple stations is surely more costly. As a result, faster turnaround is achieved.
Eco-friendliness: Bulk orders that are very common with screen printing can result in overproduction, which is one of the main issues the sustainable fashion movement is pointing out. On top, screen printing uses a lot of water and it's often done with plastisol inks that don't biodegrade.
DTG & Dye Sublimation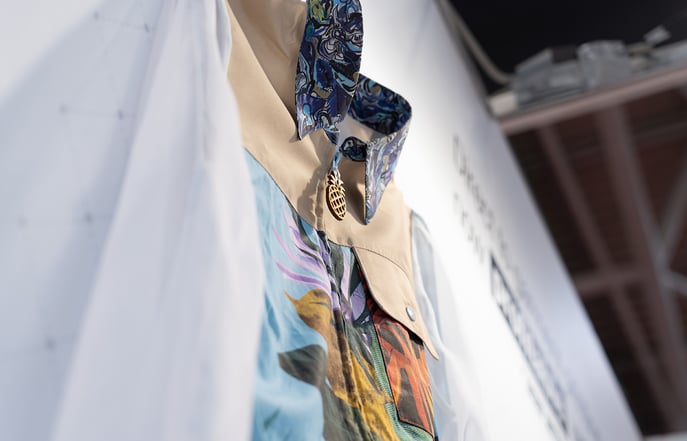 What is Dye Sublimation and what is it mostly used for?
Dye Sublimation printing is the process in which an image is printed onto special paper, and then it's transferred onto the substrate or fabric, rather than printed on the surface. Sublimation ink can convert from a solid to a gas without going through the liquid state, which allows image application to specially coated materials using heat and pressure. The method delivers vibrant and permanent colors and since the ink is embedded into the fibers, maximum durability is achieved.
Dye Sublimation can be used for printing on many types of substrates such as polyester fabrics, soft signage, rigid substrates & products, ceramic tiles and more. However, its most common use is for printing on a minimum of 50% polyester or polymer-coated substrates that are "dye sub ready", a fact that makes sports industry accessible with solid solutions. The ability to print all-over raises popularity even more among the garment decoration market.
Why DTG over Dye Sublimation?
The main factor that empowers DTG over Dye Sub is the ability to print on both cotton and cotton-polyester blends; cotton is the most common substrate and Dye Sublimation simply cannot print on it. The need for much supportive equipment (special heat press & transfer paper, cutting & sewing devices and accessories like thermo tape & tuck spray) enlarges the working area and maybe personnel, complicates the process, making Dye Sublimation a not-so cost effective method. Besides, DTG is always more eco-friendly theoretically leaving minimum waste and consequently less polluting the environment.
Truth be told, DTG printing cannot really substitute the Dye Sublimation method or the other way round, making it ideal for printing businesses to blend these two. They can be similar in some ways but there are certain differences that separate their target focus.
DTG & Cut Vinyl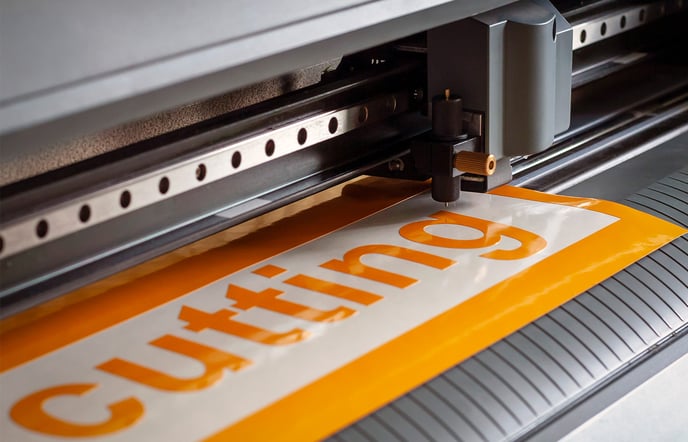 What is Cut Vinyl and what is it mostly used for?
A machine cuts high-quality vinyl into the shape of the desired design and then it is applied to a shirt using heat. This is the Cut Vinyl decoration method that requires no actual printing and in that way, it delivers outputs with high longevity. This technique is usually used for designs that incorporate simple designs with a maximum of one or two colors and it can be a great option for printing the same design onto multiple garment types. From a business point of view, Cut Vinyl is a solid option for start-up ventures in the apparel decoration industry since there are low setup costs and is great for short orders.
Why DTG over Cut Vinyl?
Cut Vinyl comes with a rather complex nature, preventing it from mass printing and bulky design. This means that this is not a firm option for mass volume orders, limitating in that way the opportunities of scaling up. DTG printing also wins the quality run, hands down; transfers and vinyl often separate from the garments in tumble dryers or after multiple washes. On top, high quality full colored prints are achieved via DTG, while there are special features that allow design blending with the garment, such as shading and fading.
DTG & Embroidery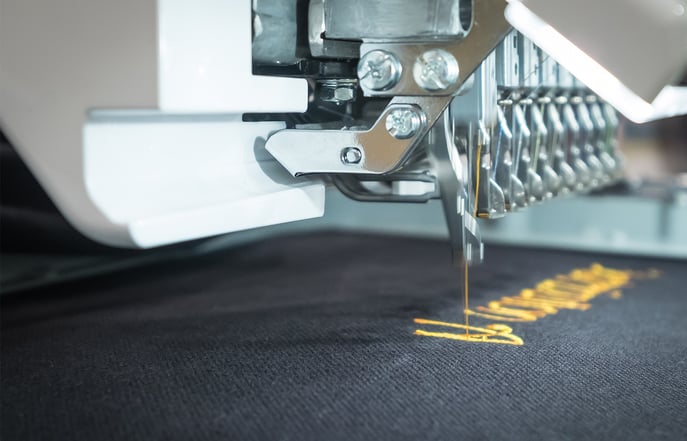 What is Embroidery and what is it mostly used for?
Embroidery is basically sewing a design onto a garment. This means that the design is reproduced by stitching threads directly into fabric. The actual stitching process can be either manual (by hand) or fully automatic and performed by computerised machines. In this case, the first step is to digitise the design and then upload it to the embroidery machine.
Traditionally, embroidery is more durable than print and it is most popular for long-lasting garment branding; in other words, embroidery is well suited for businesses needing a professional and high quality finish regarding their apparel of polo shirts, caps and jackets.
Why DTG over Embroidery?
In terms of branding and professional look, embroidery is the answer. But it is just that. In contrast with DTG, embroidery is limited to a few colors and cannot support detail in design, meaning that designs have to be extra simplified in order to be embroidered. Large designs are out of the question since it is either very slow to produce or costly to operate. Even with durability, which is a certain embroidery asset, the use of thread can sometimes reduce the quality of a logo design.
Learn why DTG is a more beneficial and clever choice for the garment decoration market: Direct to Garment (DTG) printing benefits