A guide on how to correctly transfer DTF designs on synthetic fabrics. Tips for the best printing settings to use and how to create the perfect application.
The Direct-to-Film technique gives TexJet users the opportunity to print on textiles that are from a pure synthetic composition. Such are sportswear fabrics, like athletic jerseys and shorts, nylon jackets and gym bags. These clothing pieces can be decorated with DTF designs, producing unique sports fashion apparel.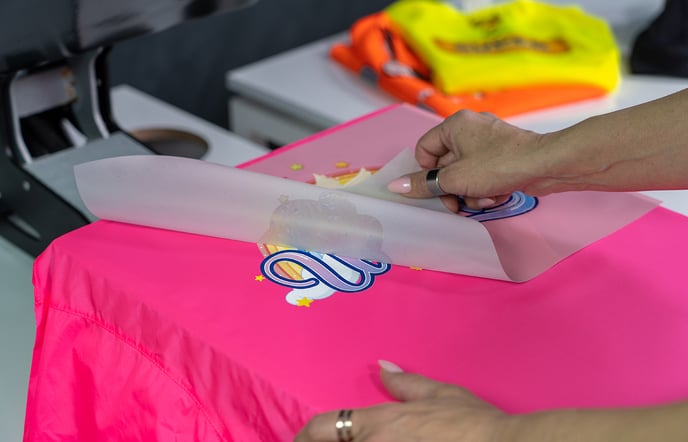 Due to their nature, synthetic fibers tend to behave differently than natural fibers when high temperatures are applied. The dyes used in their processing tend to "rise" and bleed into the ink – a phenomenon commonly referred as "dye migration". This phenomenon is very common when transferring DTF designs on synthetics, blends or sublimated textiles. On these textiles you might see the white ink blending with the dye of the fabric, after pressing with a high heat setting.
To avoid issues like this, as much as possible, follow the below troubleshooting guide:
Increase the white ink strength
Go to Color Adjust at the Job tab and at the Underbase After layer increase the white ink percentage up to 60%. This way, the higher quantity of white ink will prevent as much as possible - depending always on the fabric - the dye migration during transferring.
Note: Depending on your design you should pay attention on how much you increase the white ink. Designs with big solid spots, may be prone to bleeding within the first printed CMYK layer, so make sure you perform some tests beforehand. We highly recommend to you the 2-pass mode when increasing the white ink.
Lower the transfer temperature
After curing your design with the powder, comes transferring the design onto the fabric. At this stage of the process, you should try lowering the heatpress temperature, so you avoid dye migration. The recommended setting when transferring to natural fibers is 160oC (320F) degrees, but on synthetic textiles you can lower it down to about 120oC - 130oC (248-266F). At the same time you should increase the transfer time to even up to 90 seconds, in order to achieve maximum wash fastness.
Depending both on the fabric and its dye, you should try different combinations of transfer temperature and time. Especially for the transfer time, the result might be looking good after peeling, but its wash fastness might take a hit if the time isn't sufficient enough. General rule of thumb is that when lowering the temperature the transfer time should be increased for at least 30 seconds.
Notes:
For fabrics that don't require consistent washing, like bags, you can reduce the heat to 110oC (230F), but make sure you extend the transfer time a bit longer, for about 40-50 seconds.
Don't lower the heat presses pressure, as you might experience humidity spots, after peeling the film. The pressure should be relatively high when transferring the film onto the desired clothing piece.
Check here how to perform the DTF process on the TexJet echo2 and Texjet shortee2 printers: How to print DTF with TexJet® DTG printers