A step by step guide on how to print direct to tote bags with the use of the TexJet DTG printers.
vTote bags are a versatile fashion item that can come in handy over a multitude of occasions. All Polyprint's TexJet dtg printers offer you the possibility to print your desired designs on tote bags, due to the wide range of snap on platens that are equipped with.
The printing procedure on tote bags can occur with two alternative options: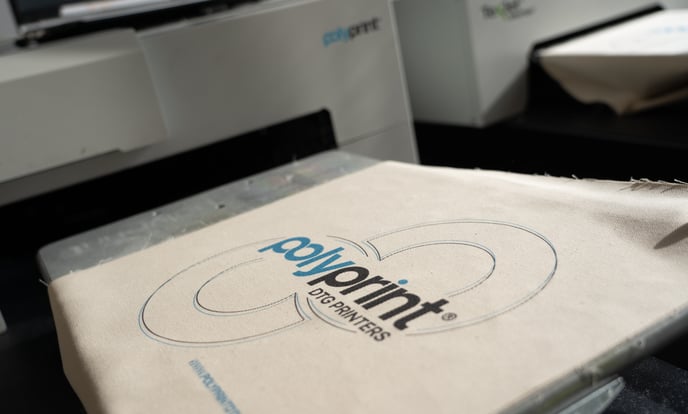 The first one is utilizing the tote's fabric beforehand sewing. This allows you freedom of movement, as you can adjust the fabric easily and print according to your needs. For example, you can print on the garment, cure it and then stitch it in a way that the print is on both sides or even at the sewed areas.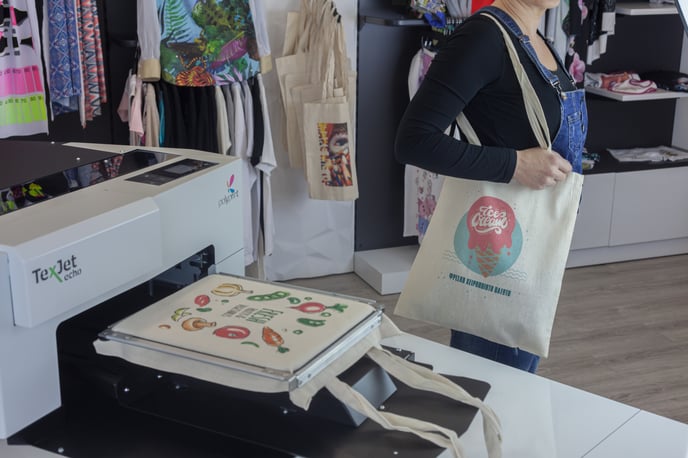 The second one is "wearing" the tote bag in the printer's platen. With this way, you can print only in the surface available, meaning that if you want to print on both sides of the bag, you should print on the one side first, cure it and then repeat the process on the other side.
In order to print on tote bag fabric successfully, follow the detailed steps below:
Step 1
Mount the suitable platen on the printer, in accordance with the dimensions of the fabric and the design that you want to print.
Tip: A useful option when printing tote bags is the snap-on platen with dimensions of 27x32cm (10.6x12.6in).
Step 2
Prepare the platen's surface with fabric glue, if necessary. By doing this, the tote's fabric sticks to the surface and the chance of moving during printing is eliminated.
Step 3
Place the fabric on the platen or wear it in case the bag is already sewed. Make adjustments by pressing the fabric on the platen in order to keep the surface flattened.
Step 4
Select the design you want with the RIP software. Make sure that you choose the suitable template for your selected platen size.
Basic printing process with Digital Factory Apparel Polyprint Edition v10
Step 5
Start printing and enjoy the process! Any design can easily be reproduced on tote bags and make them stand out.
Step 6
When the printing is finished, remove the fabric or the bag from the platen.
Step 7
Proceed to cure the print using a heat press or an oven dryer.
Tip: The material often used for tote bags is canvas, due to its durability and eco-friendliness. This material is sensitive to heat and sometimes after fixation can appear yellowish. It is recommended to lower the temperature and time during the curing of these materials.