A comparative review between Polyprint's Texjet Inks Pretreatment for Darks and Pretreatment for Lights liquid solutions, regarding their targeted garments applications.
A pretreatment solution is an aquatic polymeric emulsion that fills in the spaces between the weaving of the fabric. When its cured, it creates an invisible film that provides a smooth surface ideal for the inks to be adhered upon and result in a high-quality print.
Depending, mainly, on the color of the fabric that you want to print on, but also its type, there are two main categories of pretreatment liquids. One targets dark and black colored garments and the second one white and light-colored garments. Below, each category is examined in detail.
Texjet Inks - Pretreatment for Darks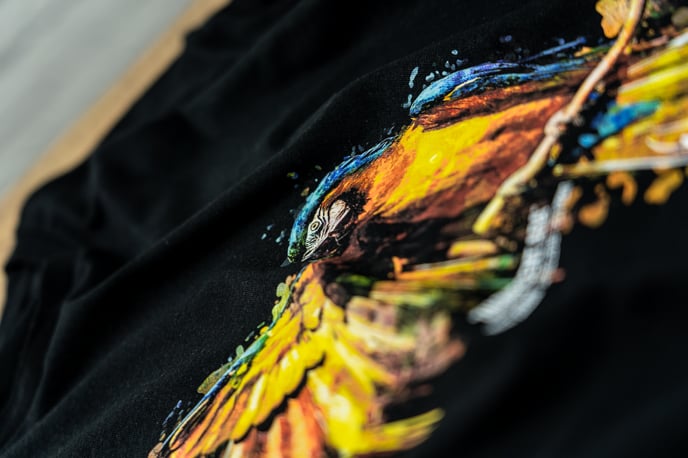 When printing on dark or black colored garments an intermediate layer between the fabric and the inks needs to be created so that later the inks could be printed and fixated upon. The application of a pretreatment layer is vital in dark garments in order for the colors to adhere to it, be visible and not soak into the fabric. If no pretreatment is applied, the inks will be absorbed into the fabric and due to its dark tint, they will appear extremely faded and almost like there is no ink at all.
By applying a pretreatment solution prior to printing on dark garments, you basically coat the fibers with an agent and when its cured, creates a bond with the applied inks and stabilizes them on the surface. This way, the white ink, but also the CMYK colors that are printed afterwards, can adhere to it and not disappear.
Generally, precoating solution is required and can be used in all types of dark colored fabrics. Nevertheless, the current applications of such solutions are mostly targeted towards cotton or blends (with up to 50% cotton). Polyester is considered a difficult fabric to print on with water-based inks (those that are used in DTG), because is a synthetic hydrophobic fiber, meaning that repels the inks. For that reason, most pretreatment solutions work better in cotton or blends since they display optimum results in those cases.
Polyprint offers the Texjet Inks - Pretreatment for Darks solution that is specifically formulated to enhance the performance of the Texjet Inks. It leads to superior quality prints, by increasing the inks vibrancy and sharpness, alongside their wash endurance.
Tip: The recommended pretreatment amount for a 40cm x 60cm (15.7"x23.6") area (150 gr/m2 t-shirt), when pretreating dark cotton with the Texjet Inks - Pretreatment for Darks liquid, is about 21 to 25 ml - depending on fabric thickness and quality.
Texjet Inks - Pretreatment for Lights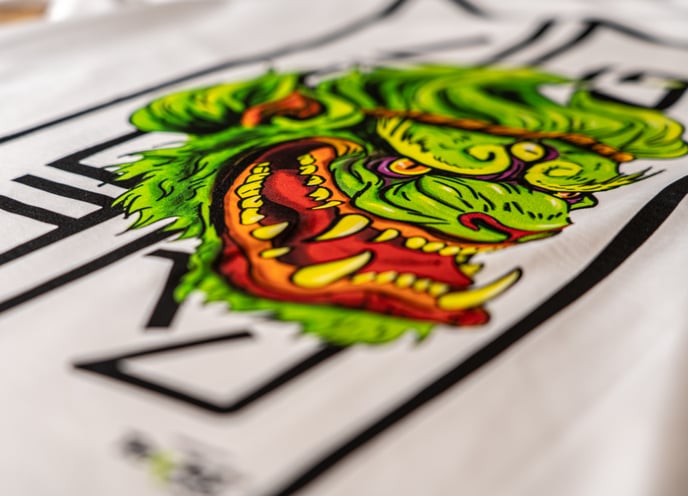 As far as white and light-colored cotton garments, pretreatment application is not essential, as printing direct to the garment is feasible (no white under base is needed) and results in an exceptional quality print. Polyprint gives you the opportunity to increase your print's vividness and at the same time boost the wash resistance of your fabrics by using the Texjet Inks - Pretreatment for Lights solution. This solution enhances the inks' vibrancy while increasing the wash endurance of your print, meaning less evident fade of the colors through washing.
In the case of white and light-colored fabrics made of synthetic fibers like polyester, the use of a pretreatment solution such as the Pretreatment for Lights solution from Polyprint is essential. As mentioned before, polyester is a tricky fabric that is hydrophobic and repels the water-based inks that are used in most DTG applications. The pretreatment solution is specifically formulated to have the ability to stabilize the inks on the surface of the garment by stopping the ink's bleeding through polyester fibers.
Tip: The recommended Texjet Inks - Pretreatment for Lights solution amount for a 40cm x 60cm (15.7"x23.6") area, when pretreating light-colored cotton (150 gr/m2 t-shirt) is 14 ml and on light polyester about 20 ml.
If you want to learn what parameters are used for the application of the Texjet pretreatment liquids, follow the link here: Inks & Pretreatment Liquids: Fixation times and temperatures