An analytical guide on how to print directly on kids and infant clothing with the use of the TexJet series printers.
Direct-to-garment printing is a technology that can easily be incorporated in the childrenswear and infant clothing industry. Kids and toddler clothes are mainly made of cotton, due to the safe material used as their skin is sensitive. These textiles are ideal substrates for digital printing, as cotton yarn shows the best compatibility with the water-based inks that are used in most dtg applications. By using this technology's benefits, you can create unique personalized kid and baby clothes that will stand out.
Note: Before you proceed with the dtg process, you should make sure that all chemical auxiliaries and consumables that are used during printing, such as inks and pretreatment liquids, are safe and intended for childrenswear. Polyprint's product range, Texjet Inks, have been awarded with the highest degree of certification and specifically, have been certified with ECO PASSPORT by OEKO-TEX® ..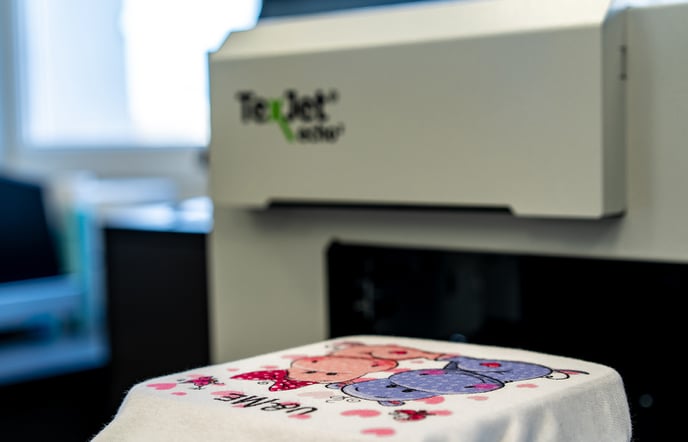 In order to print on children's clothing successfully, follow with ease the detailed steps below:
Step 1
Mount the suitable platen on the printer, according to the dimensions of the fabric and the design that you want to print.
Tips:
Usually the platens that come in handy when printing on small sized clothing, like baby bibs and toddlers' jumpsuits, are the 15x15cm (5.9"x5.9") and the 14x30cm (5.5"x11.8") platens.
If you want to print on kids' hoodies you can use the 27x14cm (10.6"x5.5") platen.
Check here all the Available platen options for TexJet printers
Step 2
Wear the fabric on the platen and tuck the excess fabric underneath. Make adjustments by pressing the fabric on the platen in order to keep the surface flattened.
Step 3
Select your desired design though the RIP software. Make sure that you choose the suitable template for your selected platen size.
Basic printing process with Digital Factory Apparel Polyprint Edition v10
Step 4
Start printing and enjoy the process! Any design can easily be reproduced in kids clothing and make it stand out.
Step 5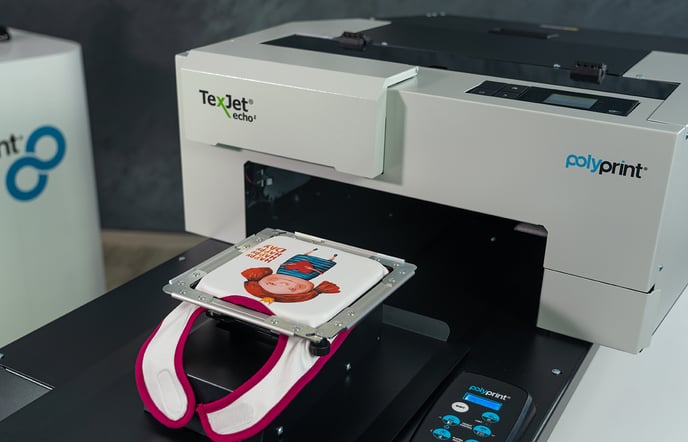 When printing is finished, remove carefully the fabric from the platen.
Step 6
Proceed to cure the print using a heat press or an oven dryer.