Everything you need to know about: Direct-to-Garment and Direct-to-Film Xpress printing with TexJet® printers. Learn about their differences and how they can make your printing process easier.
DTF Xpress is a new technique introduced by Polyprint, in order to complement DTG printing with Texjet printers. Direct-to-Film Xpress was developed based on the DTG core, rendering our existing technology a hybrid system. Both methods can be performed with the same TexJet® printer, curing equipment, RIP software and ink setup. The DTF Xpress method allows TexJet users to expand their product portfolio with multiple applications.
Each printing method has its advantages and doesn't eliminating each other's efficiency. Below you will find the reasons why DTF should coexist with DTG, and shouldn't be used as a sole solution in digital printing:
Printing process & consumables
As the name suggests, Direct-to-Garment technology allows you to print directly onto the fabric. This means, that all you have to do is load the garment to the printer's platen and hit print. After printing, the garments are cured in a heat press or an oven. An auxiliary that is highly used in DTG printing, is the pretreatment liquid that enhances the color vibrancy, wash fastness and makes the white ink stabilize on the fabric's surface.
What is Direct to Garment (DTG) printing?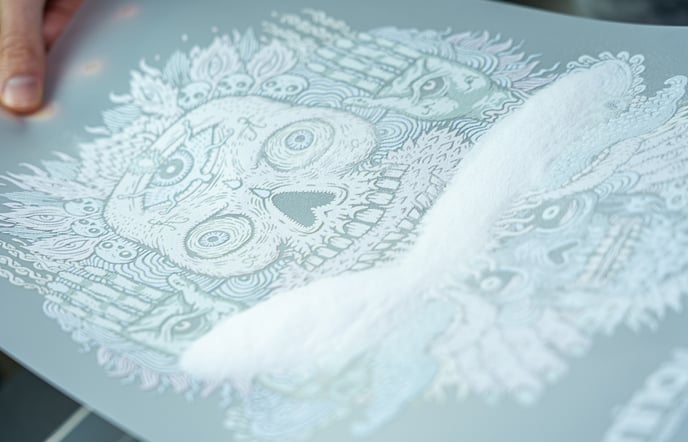 Direct-to-Film is a process that produces textile transfers. First, a film is digitally printed and then the design is coated with an adhesive powder. Afterwards, the film is "baked" and transferred onto the garment by using heat. This means that you don't need pretreatment, but instead you have to use two other supplies: the DTF Xpress Transfer Film and the DTF Xpress Adhesive Powder. In contrast to DTG, you don't have to use any special equipment, like a pretreatment machine.
How to print DTF with TexJet printers
Note: Our R&D team dedicated a lot of time and efforts in order to find the best DTF products. Our goal was to attain full compatibility between DTF supplies and our current technology, so TexJet users could achieve outstanding quality prints and expand their printing spectrum. Keep in mind that our DTF Xpress film and powder work at best with our ink solution.
Garment applications
Direct-to-Film expands the printing spectrum to different textiles, as you can print on synthetics, such as light and dark polyester, nylon, as well as multiple other fabrics. This also broadens the application portfolio within sportswear, hats, bags, petwear, professional clothing and small clothing labels. It can, also, be very useful for printing logos in specific places of the garment, such as sleeves, pockets etc. This is where DTF Xpress complements DTG, as the later method is mostly suited for natural fibers such as cotton, linen and blends. DTG can also print successfully on light-colored polyester, with the use of a special pretreatment liquid.
What types of fabrics are suitable for dtg printing?
Hand feel of print
Direct-to-Garment produces high-quality prints that are known for their soft hand touch. The design on light-colored fabrics, where a pretreatment solution is not needed, is as soft as the fabric, as the inks are directly fixated into the garment's fibers. This results in a very breathable fabric. In dark-colored fabrics where a pretreatment liquid is essential, the print is a little stiffer, but still wearable. On the other hand, designs that are printed with the DTF Xpress method, due to the adhesive powder, have a more rigid and solid appearance that makes them feel like a sticker.
Print details & gradients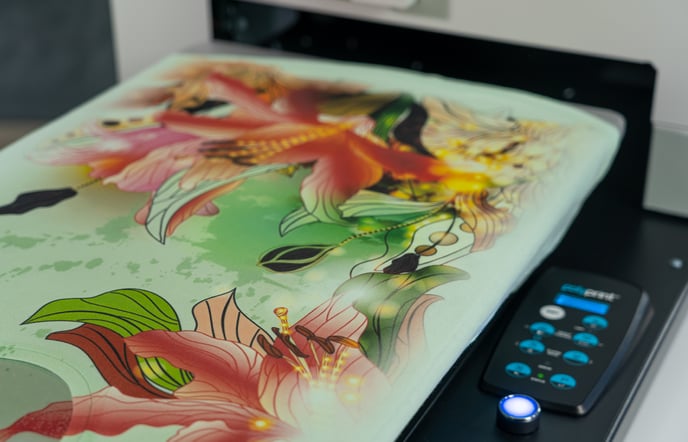 Both printing methods provide high-quality designs with exceptionally vibrant colors. The DTF Xpress method is preferred on solid fills and thus, performs better on designs with less details and gradients. This happens due to the fact that, during the powder application, those fine details and gradients cannot be picked up, even if they have been printed on the film. DTG on the other hand, excels at this department, as it digitally transfers fine details and color gradients directly onto the fabric that is printed.
How TexJet printers achieve supreme print quality?
Productivity & Cost-effectiveness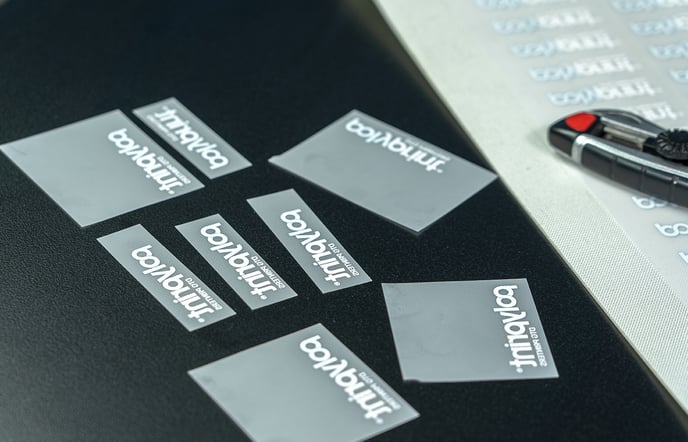 When it comes to the printing time and curing process, DTF and DTG prints can have a major difference. DTF Xpress can have reduced curing times in comparison to DTG, but when you take under consideration the time you spend to go through the DTF Xpress production steps - film printing, powder application and curation, film transfer – you may actually exceed the DTG production time. Though, this stands for one design only prints. The DTF Xpress has the advantage of printing a number of smaller designs (e.g. logos) on a single film, cut the film and transfer each design on different textiles, improving productivity.
Tip: Direct-To-Film is a time saving technique, as you can print your designs on the film and store them for future use. This way, you can transfer the print on a garment later on, depending on your production and customer needs.
Regarding cost-effectiveness, the end-result can differ depending on print size and RIP settings. DTG has the added cost of pretreatment and usually requires a larger amount of ink to produce a good quality design. DTF Xpress on the other hand, as mentioned previously, requires a powder and a film, but the use of white ink is considerably lower than in DTG printing.
How to set up and use the cost calculator in Digital Factory Apparel Polyprint Edition v10
Wash Fastness
DTG printed garments can withstand a high number of washes if handled properly. There are specific guidelines on how to wash these garments, in order to obtain high wash fastness. Sometimes, especially dark-garments with a white underbase, can be quite sensitive during washing. This is where DTF Xpress can help. The combination between powder and inks creates a durable printed outcome that depending on material and application can offer even better wash resistance.
How to wash DTG printed textiles
Parameters that affect the wash fastness of DTG printed garments