Learn about the history of dtg printing and its current market trends. Discover step-by-step the dtg printing process and realize why you should use dtg printing.
The history of DTG printing
Direct-to-Garment printing (DTG), also known as digital apparel printing, is a ground-breaking technology that surfaced in the late 90's. Following in the footsteps of ordinary home printers, Direct-To-Garment printers print designs directly onto garments instead of paper. It, essentially, uses inkjet technology to print directly onto various textiles and garments, also well known for printing customized prints on t-shirts.
This fairly new technology surfaced in the USA in 1996 by Matthew Rhome's first commercial DTG printer, the "Revolution". Revolutionary for its time, originating from injection printers (1950) that were available in every office, Rhome started to wonder if they could print on various materials other than paper. Matthew Rhome was granted the first DTG patent in 2000. In 2005 white ink was introduced to the market, solving the problem of printing on dark garments. Trying to surpass screen printing's limitations, between 2000-2013 Brother, Mimaki, Kornit and Polyprint introduced various DTG printers to the market as a worthwhile alternative to screen printing.
DTG printing market
Over the year's businesses have witnessed high market trends for mass customization, personalization and eco-friendly solutions, driving demand to DTG printing. According to keypoint Intelligence (9 May, 2019):
DTG printed garments represent around 9% of the printed T-shirt market on a global basis, with North America in the lead.
The North American DTG market is valued at over $2.5 billion with a compound annual growth rate of 10.5% through 2021.
Mass customization, increased personalization, and environmental benefits are fueling the growth of short-run print on demand.
Digital printing is a cost-efficient choice for print service providers in the garment decoration industry, where there is a high profit margin and great demand.
DTG Printing in the Garment Decoration Market
What is the DTG printing process?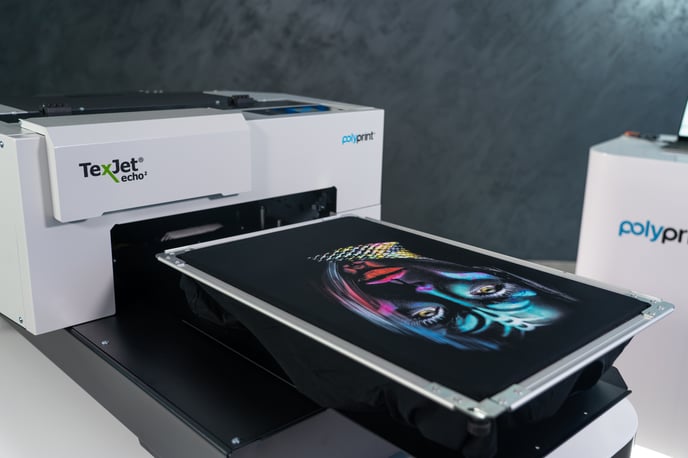 Say goodbye to numerous hours of preparation, designs are now recreated by a print head that jets thousands of tiny drops of water-based pigment ink onto fabric. If you're printing on a dark garment, the printer will also print an underbase (pretreatment is needed when printing white ink), similar to screen printing. Once the print is completed, it must be cured by using a heat press or a conveyor dryer.
DTG key steps
Once you have digitally designed and prepared the graphics you wish to print, this is how the dtg printing process, actually works:
DTG printers use water-based textile inks that work best on natural fibers (cotton, linen etc.) and require a curing process.
Step 1
Spray the garment with pretreatment liquid before printing, to "lock" the ink with the textile fibers and increase color vividness.
Note: The application of a pretreatment liquid is always required when printing white ink on a garment.
Step 2
Heat press the pretreated garment to flatten the textile fibers and better tie the ink to the garment.
Step 3
Position your pretreated garment onto the printer. Flatten the garment, ensuring there are no wrinkles.
How to properly place a t-shirt on a TexJet dtg printer's platen
Step 4
Hit " print" and automatically print your design from the printer queue. For dark garments a white underbase is first printed and then, the CMYK colors are printed over it.
Step 5
When printing is finished, you'll need to cure the garment using a heat press or a forced air conveyor dryer. This allows the ink to set.
Curing equipment in DTG: Heatpress vs Oven Dryer
Step 6
Once cured, your garment is ready to sell, ship and wear.
Why use DTG printing?
DTG printing is the cost-effective way of printing on-demand, personalized garments for small-medium production runs. The lower the quantity and higher the color count, the more reason to use DTG printing for the job.
DTG Benefits
It's Digital
With as little as a computer, printer and a heat press and you are ready to go. No separations, screen exposures or vinyl to week with DTG printing. The very low setup cost per job is what makes DTG printing the best option for small runs.
High print quality
Print the smallest detail, with multiple color options. Get a photo-realistic result in minutes. Also, the amount of color is endless with DTG and not dependent on how many colors you have on a press, like screen printing.
How TexJet printers achieve supreme print quality
Personalization
Satisfy even the most demanding customer at the lowest cost. Provide turn-key solutions for their every need on the spot.
Optimized for short to medium productions
Direct-To-Garment printing is ideal for entry level businesses. Its automation and ease of use can produce short runs in minimum time without ink waste. Receive the optimum results with quick Return on Investment (ROI). Without difficulty, DTG can be incorporated into various business models with its wide variety of applications.
Eco-friendly
DTG printing allows low energy consumption and minimum ink waste. The water-based inks are environmentally friendly (OEKO-TEX ECO PASSPORT Certified) safe even for children.
DuPont OEKO-TEX® & GOTS-ECOCERT Certifications
Short learning curve
Get your business up and running in no time with DTG technology. With minimum set-up requirements, even a new starter could handle a DTG printer. Immediate, vibrant color printing will deliver a quick turnaround on your investment.