Learn all about the new TexJet® Inks product range. What are their improved characteristics and how they can benefit your business.
Texjet® Inks is the new product range from Polyprint that supports DTG water-based pigments inks, pretreatment liquids and cleaner solution, specifically formulated to optimize the performance of Texjet printer models.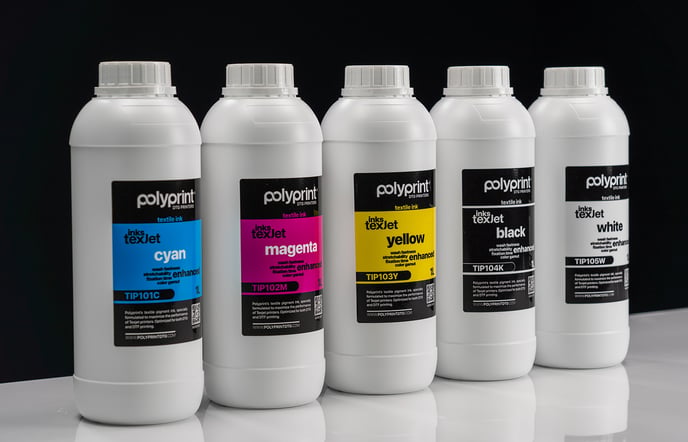 With years under development, Texjet® Inks products were created to provide better characteristics compared to the existing solution and achieve a superior printing outcome. Batch after batch we made sure that the final product would be top-notch quality to match the capabilities of Texjet DTG printers.
The new Texjet® Inks series consists of a CMYKW ink set, two pretreatment solutions for Dark and Light colored-garment printing and maintenance cleaning liquid. The consumables are compatible with all Texjet printers from the smaller models, such as echo2 and shortee2, to the new industrial ones, the NGs.
The Texjet® Inks enhanced characteristics are the following:
High wash fastness
With 50% more color endurance on the washing cycles the designs are maintaining their vividness and keep looking brand new after numerous washes. This way, your customers enjoy long-time wear of their favorite t-shirts.
Tip: Boost the vibrancy of your design by using the Texjet Inks – Pretreatment for Lights solution. Learn more here.
Enhanced stretchability
Improved hand-feeling and greater elasticity, to give your customers a high-quality product that lasts.
Superior white coverage
Enjoy great white ink opacity in a single pass. With the increased coverage capacity, you can achieve an excellent white underbase with lower ink consumption.
Low fixation times
Increase your productivity with fast curing. Texjet Inks series provide lower fixation times to support large production runs. Fix colors fast - 120 seconds on dark garments, 40 seconds on lights in a heatpress. Compatible with oven curing as well.
Learn more about the curing parameters of the Texjet Inks products here.
Extended color gamut
With a greater color space to work with, achieve high color accuracy and better color management. Match easily what you see in the monitor to the actual print outcome!
DTF compatible
Texjet inks are optimized for both DTG and DTF printing. Giving maximum performance on the two techniques helps you expand your application field on a variety of substrates.
Learn how to print DTF with Texjet DTG printers!
Green
Polyprint's new product range has acquired the ECO-PASSPORT certification by OEKO-TEX, declaring their sustainability and friendliness to the user and the environment. Even babies can wear personalized apparel safely.
Product packaging
New packaging options are available, introducing the 2L and 5L bottles for the ink set. Now, you can regulate your stock even more efficiently with those bulk options.
Extended shelf life
The whole ink set formula was designed to have a shelf-life of up to a year, without any excessive maintenance required. Learn how to store and maintain the Texjet Inks range.